---
YouGov offers fast, accurate and cost-effective market research solutions that help your business make smarter, agile, evidence-based decisions.

Our Omnibus service is the perfect vehicle to test public and consumer opinions, attitudes and behaviours. We interview an online representative sample of adults, aged 18+, and you only pay for as many questions you need. Our expert team of researchers are also here to help with survey design and translation.

Why YouGov?
We're a trusted partner with many of the world's leading brands and agencies
Industry analysts and media trust and use our data every day
We focus on quality of sample, and have a strong track record in delivering high quality data to our customers
We get you results quickly without jeopardizing the quality of the research instruments or sample
Filter, analyse, cut and visualize your data in our cutting edge data delivery platform known as Crunch

What can you use Omnibus for?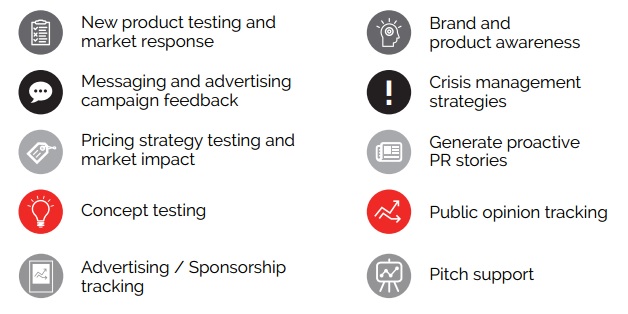 How does it work?
BRIEFING – Tell us how we can help. What's your research objective and/or hypothesis? What question(s) do you need answered? How will the data be used? 
PLANNING - Our expert research team can either draft a research questionnaire from scratch based on your objectives, or we can refine/optimize an existing questionnaire you have created
DEVELOPMENT - Once the questionnaire is finalized we script the survey using our own proprietary technology, and we'll send you a test link before going to field
LAUNCH - Once scripting is complete, we launch your survey and begin collecting results. Field work typically takes 3-5 days
PROCESSING - Once field work is complete, we process and clean your data to ensure you receive the highest quality sample
DELIVERY – And finally, once data processing is complete, you'll receive a link to view your data online using our cutting edge data discovery platform, Crunch. We can also prepare other formats (e.g. Excel, SPSS, etc) if needed
Special Promotion for participants at Markies Award 2019
As a participant at Markies Award 2019, you can enjoy a Buy-1-Get-1-Free discount on our Omnibus research service in Hong Kong. Valid till Jul 31, 2019. Book now!