Image Source: Getty Images
With the recent unveiling of new banknotes by the Hong Kong Monetary Authority (HKMA), Hong Kongers give their two cents.
New YouGov research shows that while the overwhelming majority of Hong Kongers are aware of the region's new banknotes, they remain divided on the designs.
The new bills – which will come in five themes, one per denomination, and showcasing the 'Hong Kong spirit' – were recently unveiled by the Hong Kong Monetary Authority (HKMA). While the new tender was bought in for a number of reasons, a key aspect in the redesigns was to incorporate new security features to prevent counterfeiting.
YouGov's study shows that the HKMA has been successful in publicising the new notes – 87% of people in the region know about them. However, so far the authority has been less successful in enthusing residents about the designs, with only three in ten (31%) liking them. By comparison, more than a third (36%) of Hong Kongers dislike the new notes and over half (55%) prefer the current bills.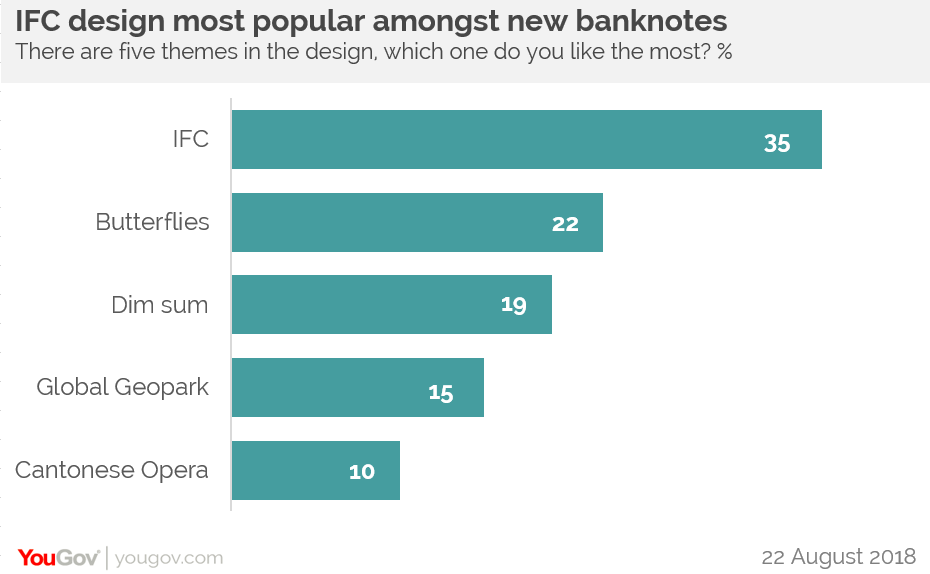 The research also asked residents about their views of the motifs of the new notes. The most popular is the theme depicting the International Finance Centre, with 35% selecting it as their top choice, followed by butterflies at 22%, dim sum at 19%, and the Global Geopark at 15%. The least popular theme is of the Cantonese Opera, coming in at 10%.
The notes will be issued by three banks; HSBC, Standard Chartered and Bank of China. Each bank will have its own design, based on the stipulated themes. Out of the three institutions, the most liked design is the ones from HSBC (42%), followed by Standard Chartered's (35%) and the Bank of China's (23%).
Jake Gammon, Head of YouGov Omnibus in APAC: "Bringing in things like new bank notes can be tricky as the public are often resistant to change. This certainly seems to be the case following the HKMA's announcement of Hong Kong's new bills. However, while the public is currently divided on the designs, things may well shift once people get used to pulling them out of their wallets."
**Results based on 1,036 Hong Kongers surveyed by YouGov Omnibus.