Rewards programmes dominate YouGov's annual BrandIndex Buzz ranking for Hong Kong, with Moneyback taking the top spot.
YouGov BrandIndex measures the public's perception of brands on a daily basis across a range of measures. The annual rankings are compiled using Buzz scores from across all 52 weeks of last year. Buzz scores measure whether people have heard anything good or bad about a brand during the previous two weeks.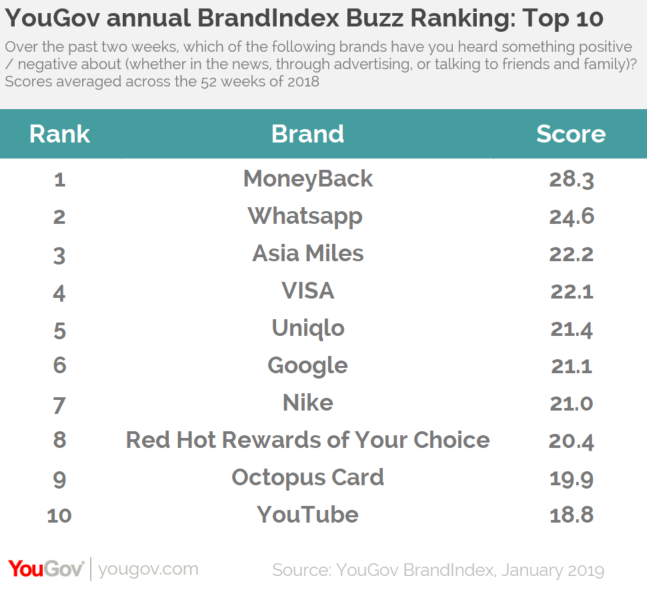 Rewards programes have a strong presence in the top ten. Local airlines rewards programme Asia Miles in third (22.2) and banking institution HSBC's Red Hot Reward of Your Choice in eighth (20.4).
Digital brands also take prominence, such as instant messaging app Whatsapp in second (24.6), internet technology conglomerate Google in sixth (21.1), and video sharing platform YouTube in tenth (18.8).
The list is completed by brands from a variety of industries. American multinational financial service VISA comes in fourth (22.1), Japanese retailer Uniqlo in fifth (21.4), sports retailer Nike in seventh (21.0) and e-wallet Octopus Card in ninth (19.9).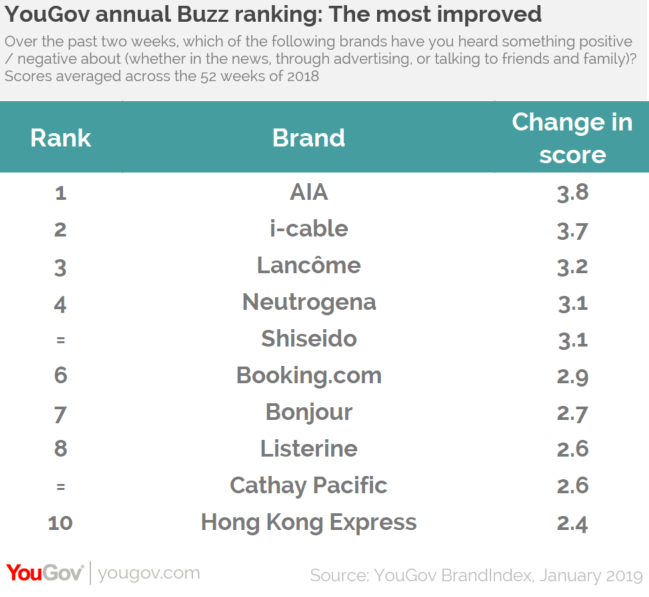 YouGov also reveals which brands have the most improved Buzz score. American insurance group AIA comes up on top, (a rise of 3.8 points) ahead of broadband internet provider i-cable (up 3.7 points). The third most improved brand was French cosmestics brand Lancome (up 3.2 points).
Ervin Ha, Head of Data Products commented: ''When it comes to what brands Hong Kongers are hearing about, rewards programmes are doing well. Moneyback heads this year's top ten, reflecting their efforts to get people to notice them. It's clear that Hong Kongers love a good deal, whether that is collecting air miles or getting cashback".