But the longer you have been in a relationship, the less likely you are to mark Valentine's Day
Valentine's Day (14th February), which marks the celebration of romantic love in many regions around the world, is almost here. But new YouGov research shows that while 99% of Hong Kongers are aware of it, only half (52%) will be marking it – and the longer people have been in relationships the less likely they are to do anything.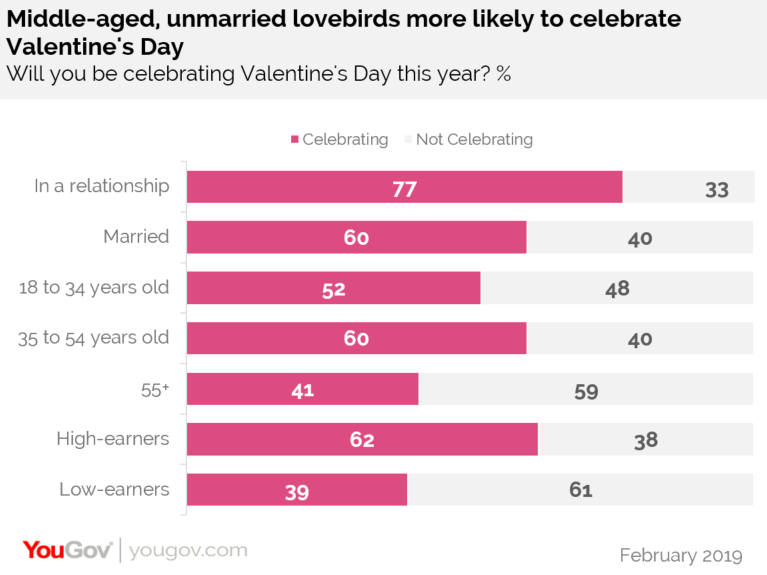 Hong Kongers currently in a relationship are most likely to celebrate Valentine's Day, with three quarters (77%) intending to do something special. This is in contrast to married Hong Kongers – where six in ten (60%) will. Valentine's Day is most popular amongst those aged 35 to 54, with six in ten (60%) celebrating compared to half (52%) of those aged 18 to 34, and four in ten (41%) of those aged 55 and over.
The date also appears more popular amongst higher earning Hong Kongers (those earning more than HKD 50,000 a month) than lower earners (earning less than HKD 25,000 a month). While six in ten (62%) of high earners will be celebrating, this drops to four in ten (39%) amongst low earners.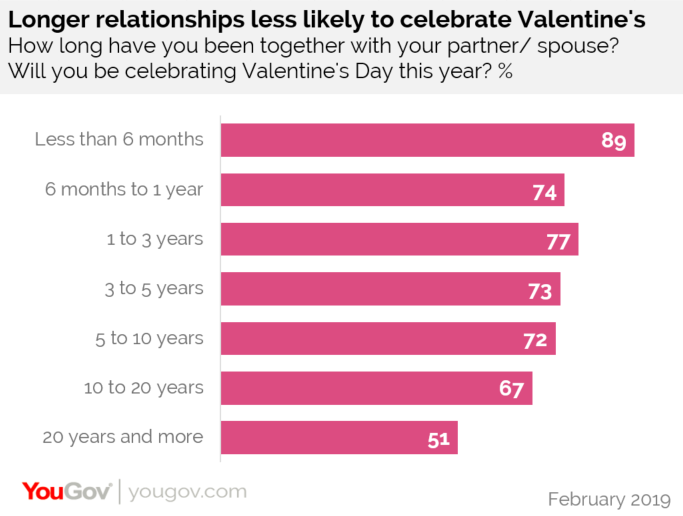 Whether someone marks Valentine's Day also depends on how long they have been with their significant other. While nine in ten (89%) of those who have been with their partner for less than six months will be celebrating, this drops to seven in (72%) who've been together for 5 to 10 years. This drops further (to 51%) for people who've been together for 20 years or more.
For those who will be celebrating, eight in ten (79%) will give a gift. On average, Hong Kongers will spend HKD 3,099 on a present, with the most paying via credit card (75%), followed by cash (20%) and debit card (4%). For 1% of Hong Kongers, their gift will be something that doesn't cost money.
Among the other half (48%) of Hong Kongers that won't be celebrating, the top reason for not doing so is that they find it too commercialised (45%). Other popular reasons are that things are more expensive on Valentine's (37%) and they don't have a partner to celebrate with (33%).
Jake Gammon, Head of YouGov Omnibus in APAC commented: "Much of the world will be marking Valentine's Day, and many Hong Kongers are also getting involved. However, just being in a relationship does not mean you will be marking the occasion. Our data shows that the longer someone has been with their partner, the less likely they are to do anything for Valentine's Day. It's also interesting to note that the date is most popular amongst the middle-aged."
***Results based on 8,77 Hong Kongers surveyed by YouGov Omnibus