Google is the brand that Hong Kongers would be proudest to work for, new rankings from YouGov BrandIndex reveal.
The analysis looks at which brands people would be proud or embarrassed to work for. The internet search giant tops the list with a score of 40.9, followed by technology company Apple in second place (29.1).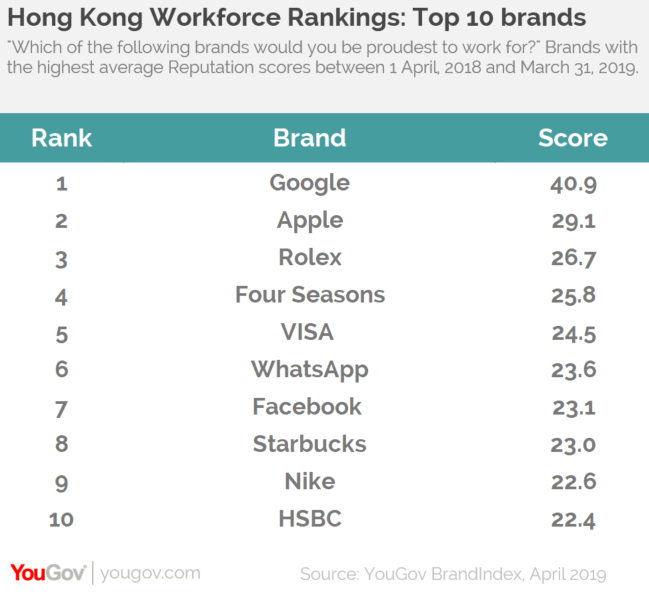 Other digital brands have a strong presence in the top ten. Instant messaging platform WhatsApp takes sixth place (23.6) and social media platform Facebook comes in seventh (23.1). Financial services also fare well – with VISA coming in fifth (24.5) and HSBC in tenth (22.4).
The list is completed with brands from various industries. Luxury brands such as Rolex comes in third (26.8) and Four Seasons Hotels and Resorts in fourth (25.8). Coffee chain Starbucks comes in eighth (23.0) and sportswear manufacturer Nike in ninth (22.6).
The rankings also reveal the brands that have seen the biggest increase in their scores over the past 12 months. Cosmetics brand Bonjour heads the list with a score increase of +5.9, followed by competitor Sasa in second (up +5.5 points), and airline Cathay Pacific in third (up +3.0).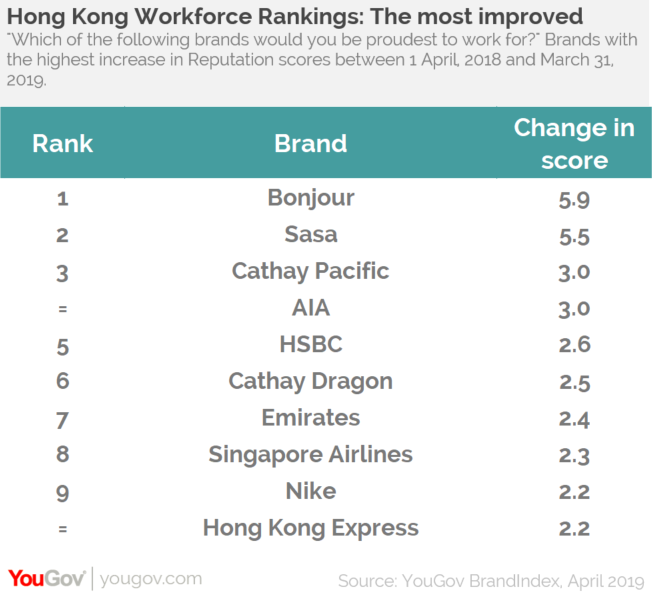 Ervin Ha, Head of Data Products at YouGov APAC said: "The prevalence of tech brands in the top ten shows that many Hong Kongers want to work for innovative and forward-thinking employers – particularly Google who takes the top spot. Being a brand people would be proud to work for is a good indication of positive brand health."