The best discussed brands amongst Hong Kongers aged 18 to 34.
Alipay HK is the most positively talked about brand amongst young adults in Hong Kong, new data from YouGov BrandIndex reveals.
The digital wallet provider tops the latest YouGov rankings, which consider the brands 18-to-34 year-olds have discussed with friends in favourable terms.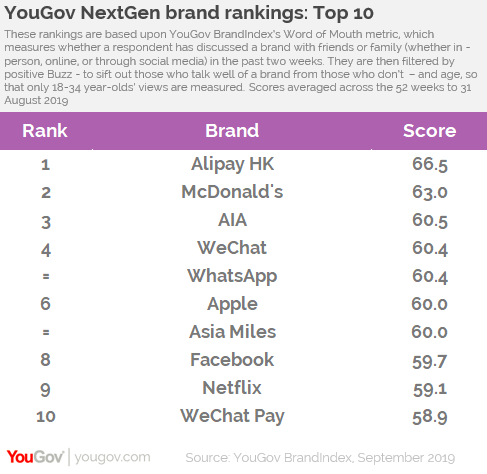 Alipay HK leads with a score of 66.5. Its competitor WeChat Pay comes in tenth place (58.9). They are joined by other digital brands such as instant messaging apps WeChat and WhatsApp in joint fourth (60.4), American technology conglomerate Apple in joint sixth (60.0), social media platform Facebook in eighth (59.7) and SVOD platform Netflix in ninth (59.1).
The list is completed with brands from various industries. Fastfood chain McDonald's comes in second (63.0), insurance group AIA in third (60.5) and rewards programme Asia Miles in joint sixth (60.0).
Ervin Ha, YouGov's Head of Data Products said: "In technologically advanced and fast-paced Hong Kong, convenience is key, and Alipay HK's services have clearly got young Hong Kongers talking. With the emergence of competing digital payment solutions, harnessing the power of word of mouth recommendations is sure to keep Alipay HK at the top."
The NextGen Rankings use 'WOM by positive Buzz' scores from BrandIndex among 18-34 year-olds. Respondents are asked whether they have heard anything positive about a brand in the last two weeks, through advertising, news, or word of mouth, and brands with low response volume are eliminated. The remaining brands are ranked on Word of Mouth scores, which look at whether respondents talked about the brands with friends and family in the past two weeks (whether in person, online, or through social media).