Recent events triggered by the extradition bill in Hong Kong have been ongoing for months, with uncertainty as to when it will slow down. Street demonstrations have led to an overall slowing down of consumer spending and the economy has slipped into a recession.
YouGov Plan & Track looks the brands that have been hit the hardest by social unrest in Hong Kong, and the various causes that has led to a decline in brand metric scores.
The mass gatherings began in Hong Kong on 9 June 2019. The people partaking in these gatherings have targeted Xiaomi, as a prominent Chinese brand. However, its Buzz scores only began to decline after a controversial ad made it rounds on Weibo on 27 August 2019. The ad for a new smart TV carried the slogan "five platforms, not one less" was perceived as uncannily similar to a slogan chanted in the gatherings.
The ad was widely criticised on social media, resulting in a fall in Xiaomi's Buzz scores. On the day the ad was released, it held a score of 36.4. It has since dropped -40.5 points and today stands at -4.1.
It is not only Chinese brands that have been targeted. Japanese multinational fast-food chain Yoshinoya has also been caught in the crossfires. On 12 July 2019, it published a Facebook post that was deemed insulting to the police force. Its CEO Marvin Hung was also criticized for attending a rally organized by the opposite camps. Although the agency responsible for the Facebook post was fired, and a swift apology was made, this did not stop Hong Kongers from talking negatively about the brand. On the day the mass gatherings began, the brand had a score of 55.7. It has since fallen -111.8 points and currently stands at -56.1.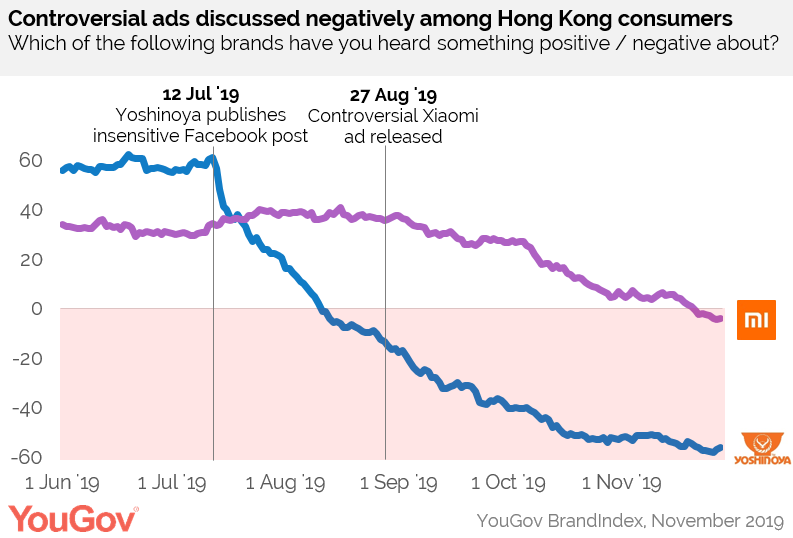 The main brand that has seemingly unimpressed Hong Kong consumers however, are those licensed by Hong Kong based restaurant chain Maxim's Caterers. On 8 September 2019, Annie Wu, the daughter of Maxims' founder, denounced the mass gatherings during an appearance at the United Nations and criticised Hong Kong youngsters for their recent actions. These comments resulted in Maxim's outlets being boycotted and vandalised. Brands licensed by Maxim's like coffee chain Starbucks, ready-meals Maxim's Fast Food and Japanese franchise Genki Sushi have all received negative publicity. All three brands saw a significant drop in Buzz scores to negative territory. Since the day Annie Wu publicly made her statements, Starbucks fell -118.8 points from 73.5 to -45.3, Maxim's Fast Food fell -111.1 points from 52.6 to -58.5 and Genki fell 103 points from 41.8 to -61.2.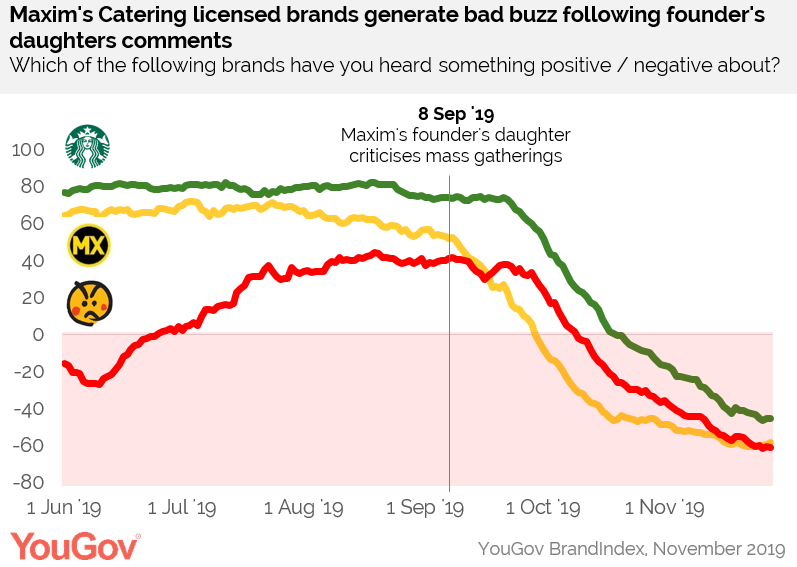 It is not only bad buzz that has surrounded these brands since the start of social unrest in Hong Kond. The negative trend in Buzz is also reflected in a drop in Current Customer scores – which measure how many people have purchased from the brand in the past 30 days. The brands that have seen the biggest loss of customers in recent days are all involved in the F&B industry. Since the beginning of the mass gatherings, Starbucks has fallen -8 points from 28.4 to 20.4. Maxim's Fast Food has fallen -10.6 points from 27.3 to 16.7 and Yoshinoya has fallen -10 points from 22.8 to 12.8. A decline in scores shows that less people are now purchasing from these three big F&B brands.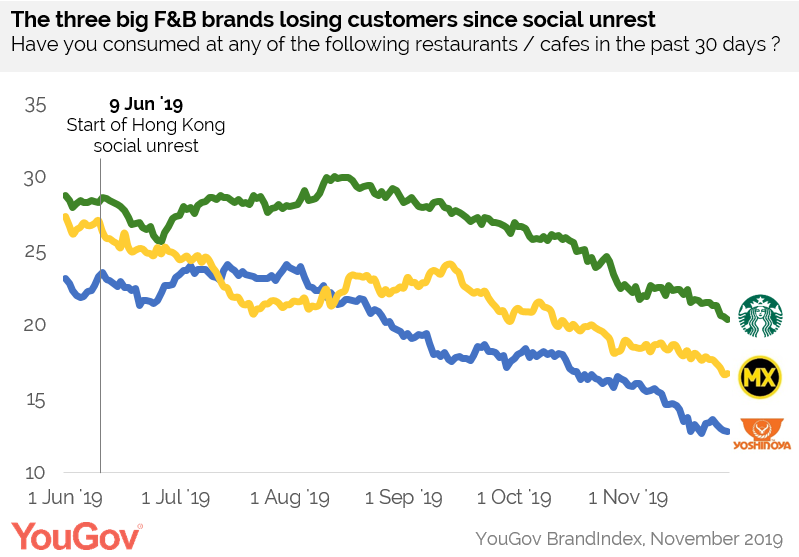 Ervin Ha, Head of Data Products commented: "The past few months has resulted in a lot of changes in Hong Kong, and one of the biggest impacts it's had is on businesses. It is not often that brands in Hong Kong lend a social voice, and even less often do we see big brands have such a significant drop in scores. It is clear in these circumstances, taking a political stance has reflected poorly in their brand health. What will be interesting to see if or when these brands will recover, as Hong Kong continues to evolve."