Fears surrounding the coronavirus drives Watsons facemask sales and more
As the coronavirus continues to spread in China and across the world, YouGov BrandIndex looks at how personal healthcare brand Watsons responses to the virus have affected its brand health scores.
On 11 January 2020, the first reported coronavirus related death was in China. Prior to this, Watsons brand health scores across various metrics remained relatively constant. We examine three main metrics -- Current Customer score that looks at how many people have bought from the brand in the past 30 days, Recommend score which looks at how many people would recommend the brand, and Buzz score which looks at how many people have heard positive things about the brand in the last two weeks.
Following reports of ten confirmed coronavirus deaths in Hong Kong, residents began queuing overnight outside pharmacies to stockpile facemasks. As a response to this, on 31 January 2020, Watsons announced on its Facebook page that each of its 230 branches would supply facemasks, and a quota system would be but in place for each customer to provide stockpiling. It also reassured that more would be arriving in early February. In addition to this, it pledged to donate facemasks to the elderly.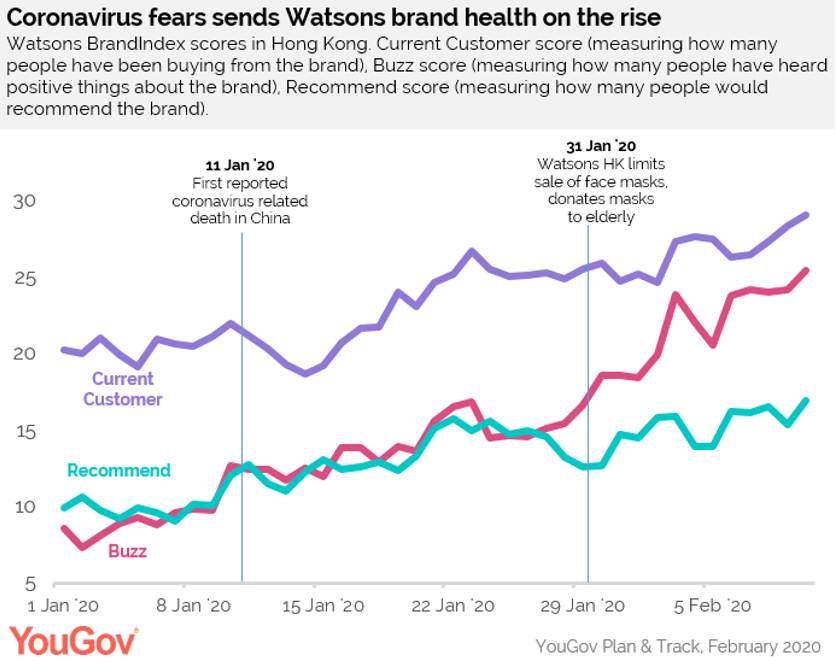 Watsons response to the coronavirus in this time of fear and panic has boded well for their brand health scores. Since the start of the year, their Current Customer score has risen from 20.2 to 29.0 – a rise of +8.8 points. Its Recommend score has risen from 9.9 to 16.9 – an increase of +7 points. Finally, its Buzz score has jumped from 8.6 to 25.4 – a significant increase of +16.8 points.
Ervin Ha, Head of Data Products commented: "It is great to see big brands respond positively to negative world events and Watsons has done a good job in delivering their services as a personal care brand. We will continue to monitor the brand to see they continue reacting to the developing outbreak."