The e-commerce platform is accompanied by six other local entities on the rankings, across the cashback, rewards, entertainment, and transport sectors
E-commerce platform HKTVmall has once again topped the charts for YouGov's annual BrandIndex Buzz Rankings with a score of 32.6, retaining its title as the most talked about brand in Hong Kong for the year 2021. The e-commerce enterprise is one of six local brands that made it to the top ten buzziest brands of the year.
YouGov BrandIndex measures the public's perception of brands on a daily basis across a range of measures. The annual rankings are compiled using Buzz scores from across all 52 weeks of last year. Buzz scores measure whether people have heard anything good or bad about a brand during the previous two weeks.
Local brands monopolised the rankings, with rewards application Yuu (29.2), contactless smart card Octopus Card (27.0), entertainment channel ViuTV (25.1), and cashback programme MoneyBack (24.7) rounding off the top five.
The final local brand to make a showing on the list is bus company KMB, which fell from its previous second-place position to come in eighth in this year's rankings (21.7).
Also featuring in the list are global brands such as Dettol and Netflix. While the former fell slightly from its fourth-place position to finish sixth (23.3), Netflix moved up two spaces to come in seventh (23.2) in the 2021 rankings.
DON DON DONKI debuts on the Hong Kong rankings this year in ninth place (21.5); unsurprising given its plans to open 24 stores in Hong Kong in the next two years. Finally, completing the top ten is tech mogul Google (21.3), down three spots from its seventh place ranking last year.
YouGov BrandIndex has also released the ten "most improved" brands of the past year. This year's list was topped by public transportation network MTR, with an improved score of 12.6 points. Hong Kong-based bank HSBC and smart card Octopus Card came in second and third, with improved scores of +9.0 and +8.2 respectively.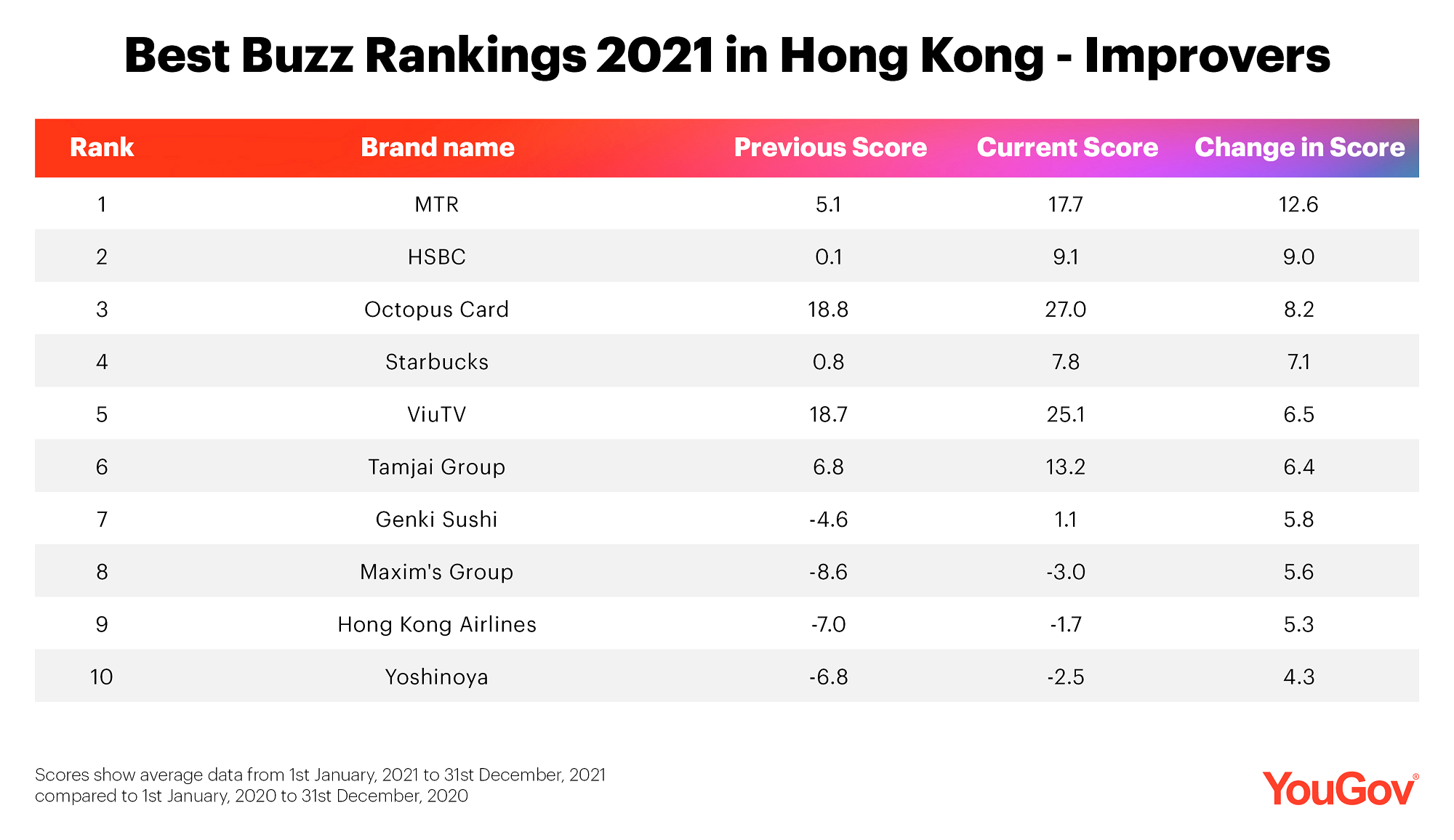 Starbucks (+7.1 points) came ahead of local entertainment channel ViuTV (+6.5 points) to complete the top five.
The rest of the improvers list was dominated by chains in the food and beverage sector, with Tamjai Group (+6.4 points), Genki Sushi (+5.8 points), Maxim's Group (+5.6 points) and Yoshinoya (+4.3 points) making an appearance. The only exception was local carrier Hong Kong Airlines, which was ninth most improved with an improved score of +5.3 points.
Download the full Buzz Rankings 2021 report here.
Methodology: 
The brands in YouGov Best Buzz Rankings 2021 were ranked based on the Buzz score, which asks respondents, "If you've heard anything about the brand in the last two weeks, through advertising, news or word of mouth, was it positive or negative?" Scores are net scores, calculated by subtracting the percentage of negative responses from the percentage of positive responses for each brand.
The Buzz Rankings chart shows the brands with the highest average Buzz scores between January 1st and December 31st, 2021. The Buzz Improvers chart ranks the brands with the highest increase in Buzz comparing scores in years 2020 and 2021, to be included in the Buzz Improvers list, the variance must be positive. Both scores are online representative.
All Buzz scores listed have been rounded to a single decimal place; however, we have used additional precision to assign ranks.
All brands must be tracked for at least 6 months to be included in the rankings and have been tracked for at least 6 months in the prior year's period (as well as being currently tracked) to appear in the Improvers tables.